Epimutations, Inheritance and Causes of Aberrant DNA Methylation in Cancer
Hereditary Cancer in Clinical Practice
2006
4:75
Received: 3 May 2006
Accepted: 15 May 2006
Published: 20 May 2006
Abstract
Epigenetic aberrations such as global hypomethylation and gene-specific hypermethylation are key events that underlie tumour development. Such scenarios are brought about by the loss of control of methylation patterns which typically are reversed in neoplasia in comparison to normal states. Despite the methylation process being termed epigenetic, suggesting that it is not a heritable condition, there is strong evidence in mouse models suggesting that epimutations within the germline may provide a mechanism through which methylation variations can be transmissible to offspring. The first half of the review will focus on the nature of methylation-induced gene silencing and transmission of this information through the germline. The latter half will focus on the cause of aberrant DNA methylation.
Keywords
aberrant methylationepimutationepigenetic inheritanceregulation of methylation
Introduction
In normal cells, repetitive elements such as long interspersed nucleotide elements (LINE), Alu repeats and satellite sequences, which make up almost half of the entire genome, are methylated. As this contributes largely to the level of global methylation, it is no surprise that these regions are the most drastically affected by hypomethylation, and the stability that the methylation once conferred to the chromosomes is lost. Supporting this is strong evidence to show that global hypomethylation plays a crucial role in causing genomic instability in colorectal carcinogenesis [
1
]. Such hypomethylation is observed in cancer cells and can be used as an indicator of genomic methylation levels [
2
]. Alternatively, gene specific hypermethylation is another mechanism which can initiate carcinogenesis. This mechanism of gene silencing is demonstrated by the correlation of methylated promoters with a subsequent decrease of corresponding gene expression. Some examples of genes methylated in cancer are summarised in Table
1
. Co-existence of global hypomethylation and gene-specific hypermethylation is common in cancer and will be discussed in more detail later in this review.
Table 1
Genes frequently found methylated in bowel, endometrial, urothelial and breast tumours
Knudson's two-hit hypothesis [
3
] requires that both alleles of a tumour-suppressing gene be altered for disease progression to occur. Germline mutations commonly represent the first hit of one allele, whilst the second hit typically arises from a sporadic mutation or loss of heterozygosity that affects the second allele (Figure
1a
). With the increasing detection of methylated promoters, refinements to Knudson's hypothesis can be made to accommodate epigenetic silencing. The MLH1 gene is widely studied and will be used in the following examples. One such scenario of epigenetic silencing includes methylation acting as the second hit, in unison with a pre-existing mutation on the second allele (Figure
1b
) and has been detected on genes such as RB1 [
4
], VHL [
5
], MLH1 [
6
] and BRCA1 [
7
]. A typical example of this is evident in the colorectal cancer cell line HCT116, which has a truncating mutation in one allele of the p16 gene. The wild-type allele however is subjected to methylation whilst the mutated allele remains unmethylated, showing how co-operatively these two mechanisms can silence genes [
8
]. Thirdly is a mechanism in which both alleles of a gene become deactivated by methylation. Sporadic cases of colon cancer are frequently the result of methylated MLH1 [
9
]. Methylation may even act as the first and second hits as illustrated in Figure
1c
. As will be discussed shortly, certain individuals possess a silenced MLH1 allele in all cells of the body, and a second event will disrupt the wild-type allele in carcinomas [
10
].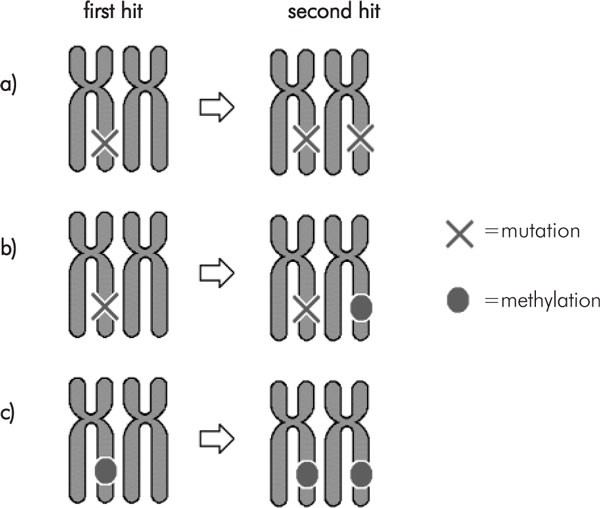 Conclusion
Epimutation of several genes has been shown to cause disease, and is equivalent to mutations within the same gene, but is a reversible trait. Inheritance of epimutations is an interesting facet of genetics, which may possibly play a role in a small percentage of cancer cases. There is evidence of its occurrence in mammals, yet definite proof of its existence in humans is yet to be demonstrated.
With regards to the regulation of methylation, the five mechanisms discussed each provide a possible explanation for aberrant DNA methylation. However, there does not seem to be one theory that can conclusively account for the abnormal methylation patterns in cancer, namely localised hypermethylation and genome-wide hypomethylation. A combination of events such as any of those discussed above with other environmental and other unknown genetic factors may have a cumulative effect on abnormal DNA methylation.
Declarations
Acknowledgements
The authors would like to thank the Hunter Medical Research Institute and the NBN Childhood Cancer Group for their support.
Authors' Affiliations
(1)
Discipline of Medical Genetics, Faculty of Health, University of Newcastle, Hunter Medical Research Institute, Australia
(2)
Division of Genetics, Hunter Area Pathology Service, John Hunter Hospital, Newcastle, Australia