Review
Open Access
Open Peer Review
This article has Open Peer Review reports available.
Germline deletions in the EPCAM gene as a cause of Lynch syndrome – literature review
Hereditary Cancer in Clinical Practice
2013
11:9
Received: 11 July 2013
Accepted: 9 August 2013
Published: 12 August 2013
Abstract
Lynch syndrome (clinically referred to as HNPCC – Hereditary Non-Polyposis Colorectal Cancer) is a frequent, autosomal, dominantly-inherited cancer predisposition syndrome caused by various germline alterations that affect DNA mismatch repair genes, mainly MLH1 and MSH2. Patients inheriting this predisposition are susceptible to colorectal, endometrial and other extracolonic tumors. It has recently been shown that germline deletions of the last few exons of the EPCAM gene are involved in the etiology of Lynch syndrome. Such constitutional mutations lead to subsequent epigenetic silencing of a neighbouring gene, here, MSH2, causing Lynch syndrome. Thus, deletions of the last few exons of EPCAM constitute a distinct class of mutations associated with HNPCC. Worldwide, several investigators have reported families with EPCAM 3'end deletions. The risk of colorectal cancer in carriers of EPCAM deletions is comparable to situations when patients are MSH2 mutation carriers, and is associated with high expression levels of EPCAM in colorectal cancer stem cells. A lower risk of endometrial cancer was also reported. Until now the standard diagnostic tests for Lynch syndrome have contained analyses such as immunohistochemistry and tests for microsatellite instability of mismatch repair genes. The identification of EPCAM deletions or larger EPCAM-MSH2 deletions should be included in routine mutation screening, as this has implications for cancer predisposition.
Keywords
Lynch syndrome EPCAM geneColon cancer MSH2 hypermethylation
Introduction
Lynch Syndrome (LS; or previously HNPCC – Hereditary Non-Polyposis Colorectal Cancer) is one of the most common cancer susceptibility syndromes, which accounts for approximately 1-4% of all colon cancer cases [
1
]. It is characterized by an early onset of ColoRectal Cancer (CRC) and increased risk for the occurrence of several extra-colonic malignancies, in particular endometrial cancer [
2
]. In the largest published series 3, 1% of colorectal cases have been familiar to LS [
3
]. HNPCC is caused by inactivating germline mutations in the MisMatch Repair (MMR) system genes (mainly
MSH2
,
MLH1
,
MSH6
, but also
PMS2
) [
4
]. According to data from NCBI base
MLH1
and
MSH2
mutations account for about 90% of all mutations connected with Lynch syndrome;
MHS6
accounts for 7-10% and
PMS2
is found in less than 5% of these alterations. According to recent studies there is another gene that has an impact on Lynch syndrome (in approximately 1-3% of LS patients within the Dutch and German populations) and this is the
EPCAM
gene (Figure
1
) [
5
].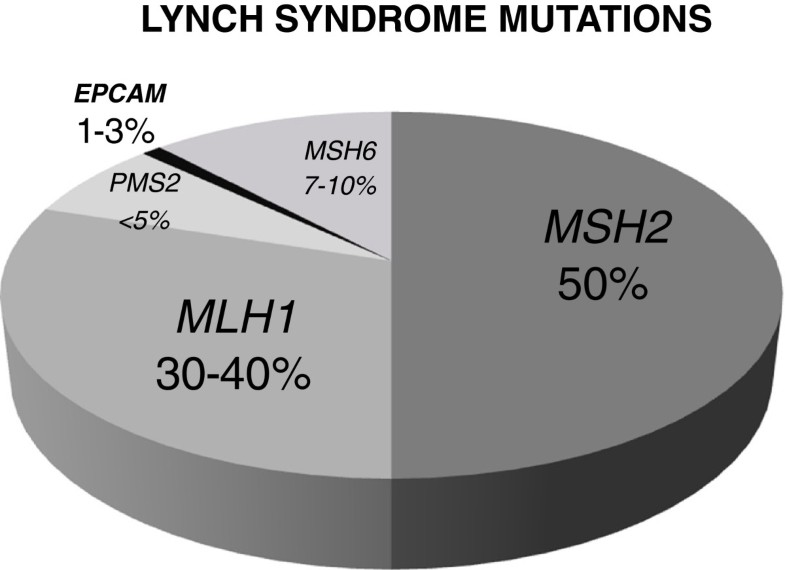 Lynch syndrome-associated tumors are usually characterized by DNA mismatch repair deficiency, and result from a second somatic event which inactivates the remaining functional mismatch repair gene allele [6, 7]. As a consequence of lack of mismatch repair, tumorigenesis is promoted by secondary mutations that accumulate at short repetitive sequences, a phenotype termed "high level microsatellite instability" (high-MSI).
In other words, a MMR gene defect in one allele gives susceptibility to further mutations which may affect second allele cause lack of mismatch repair function in cell. This results in an accumulation of mutations in coding and non-coding microsatellites in such tumors: so-called "microsatellite instability" (MSI), which is a characteristic feature of more than 95% of LS–associated CRCs [8], in addition to the loss of expression of the mutated mismatch repair gene [9]. Carriers of mutations in MLH1, MSH2 or MSH6 have a 30-80% cumulative risk of developing colorectal cancer and women have additional 27-71% cumulative risk of endometrial cancer below age 70 years [2]. The main clinical features are an early age of onset and the occurrence of multiple tumors.
Appropriate diagnosis of LS may curried out in two major ways. One of them is to focus on an adequate family history in all patients visiting a physician. The revised Bethesda guidelines are probably the most common used criteria for selecting patients with CRC for further molecular tests [
10
,
11
] (Table
1
). The other way is systematic testing for all patients with CRC for loss of MMR function by means of high level microsatellite instability in tumor tissue or immunohistochemistry (ImmunoHistoChemistry, IHC). The advantage of the immunohistochemistry, is also allowing prediction of which mismatch repair gene is likely to be affected by a germline mutation [
10
]. In our International Hereditary Cancer Center patients are classified to Lynch syndrome according to characteristic clinical features or criteria and pedigrees typical for Lynch syndrome, what is presented by Kladny and Lubinski [
12
]. An example of a pedigree of a family with definitive HNPCC and
EPCAM
carriers is shown in Figure
2
.
Table 1
Revised Bethesda guidelines for testing colorectal tumors for microsatellite instability (MSI)
| | |
| --- | --- |
| 1 | Colorectal cancer diagnosed below 50 years of age. |
| 2 | Presence of synchronous, metachronous colorectal, or other Lynch syndrome-associated* tumors, regardless of age. |
| 3 | Colorectal cancer with high-MSI*, histology diagnosed in a patient who is less than 60 years of age. |
| 4 | Colorectal cancer diagnosed with one or more first-degree relatives with Lynch syndrome – associated tumors*, with one of the cancers being diagnosed under age 50 years. |
| 5 | Colorectal cancer diagnosed in two or more first or second degree relatives with Lynch syndrome-associated tumors* regardless of age |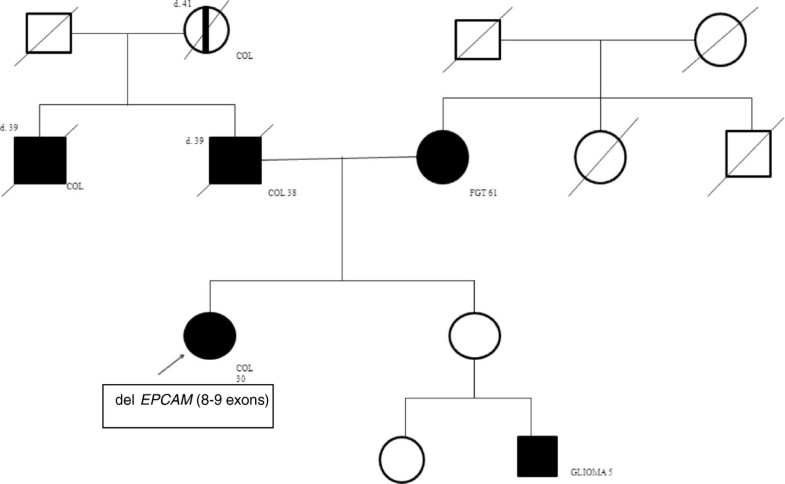 In some individuals with Lynch syndrome the MMR genes mutation search fails. This group is of particular interest to researchers, who trying to find the genetic factors causing the disease. In some LS patients it have been shown that MMR genes methylation cause disease occurence [13–16]. Some evidence for this came from studies in which the MLH1 gene was the target of methylation in germline tissues in HNPCC patients who were not carriers of a germline MLH1 mutation [17]. Moreover, heritable germline epimutations in MSH2 have been reported as well, in some MMR germline-mutation-negative LS families [18].
A new mechanism of inactivating MSH2 gene was therefore predicted. In multiple patients in which LS was suspected, with no germline mutation found in the MMR genes, a heterozygous germline deletion was identified encompassing the polyadenylation site located in the last two exons [8, 9] of the EPCAM gene (OMIM#185535, formerly known as TACSTD1) [19]. Such deletions disrupt the 3' end of the EPCAM gene, leading to transcriptional read-through of the mutated EPCAM allele and epigenetic inactivation, and silencing of, its neighbouring gene MSH2. MSH2 is located 17 kb downstream of EPCAM on chromosome 2, and causes Lynch syndrome [20]. This epigenetic inactivation is restricted only to cells expressing EPCAM, and therefore patients who carry EPCAM deletions show mosaic patterns of MSH2 inactivation that, compared with carriers of a mutation in MSH2, may lead to differences in tumor occurrence or spectrum [20]. What is interesting, high expression of EPCAM in colorectal cancer stem cells answers the question of why carriers with an EPCAM 3' end deletion have a substantially increased risk of colon cancer.
Kempers and colleagues (2011) in their studies established different cancer risks associated with EPCAM deletions, depending on whether a deletion affects only the EPCAM gene or both the EPCAM and its neighboring gene MSH2 (EPCAM-MSH2). These risks were then compared with those for Lynch syndrome carriers of a mutation in MMR genes. This was the first study that described the cumulative cancer risks and cancer profile of EPCAM deletion carriers [21]. They reported a low risk for endometrial cancer in patients with deletions of EPCAM compared to that with a mutation in an MMR gene. Of the 194 individuals with an EPCAM mutation included in their studies, 16 developed cancers other than colonic or endometrial [duodenal: n=3; and pancreatic: n=4; were the most common].
An interesting recent study by Kloor et al. (2011) revealed that concomitant lack of EPCAM and MSH2 protein expression is a feature highly specific for cancers from EPCAM deletion carriers, suggesting EPCAM immunohistochemistry as a potential analysis tool for the identification of Lynch syndrome patients with EPCAM germline deletions [22]. However, there was a problem with this approach, because EPCAM protein expression was retained in some cancers from EPCAM mutation carriers. Investigators have not determined the relationship between EPCAM protein expression status in cancers and localization of an EPCAM germline deletion [22]. This is why Huth et al. (2012) hypothesized that a second somatic hit (leading to MSH2 inactivation) determined EPCAM expression in tumor cells. (They analyzed four carcinomas and two adenomas from EPCAM deletion carriers for EPCAM protein expression and allelic deletion status of the EPCAM gene [7].
Conclusions
Based on previous worldwide results, there is a strong suggestion that implementation of EPCAM deletion mapping in routine diagnostics on suspected Lynch syndrome families should be considered. Some studies suggest that the frequency of EPCAM deletions as a cause of Lynch syndrome is up to 30% in patients with MSH2–negative tumors (from IHC results) or approximately 20% of LS patients without a mutation in MMR genes [18, 22].
This underlines the importance of EPCAM deletions in the Lynch syndrome, as it is a more frequent cause of LS than mutations in PMS2 or MSH6[33].
The frequent occurrence of somatic deletions affecting the EPCAM gene as a second hit in tumors from EPCAM deletion carriers suggests that the localization of somatic events inactivating mismatch repair genes in Lynch syndrome is not random, but related to the underlying germline mutation [7].
In conclusion, EPCAM 3'end deletions are a recurrent cause of Lynch syndrome, and detection should be implemented in routine Lynch syndrome diagnostics.
Declarations
Acknowledgement
The study was funded by Polish Ministry of Science and Higher Education (MNiSW), project number MB-158-77/13.
Authors' Affiliations
(1)
Department of Genetics and Pathology, International Hereditary Cancer Center, Pomeranian Medical University, Szczecin, Poland
Copyright
© Tutlewska et al.; licensee BioMed Central Ltd. 2013
This article is published under license to BioMed Central Ltd. This is an Open Access article distributed under the terms of the Creative Commons Attribution License (http://creativecommons.org/licenses/by/2.0), which permits unrestricted use, distribution, and reproduction in any medium, provided the original work is properly cited.